Press Kit
« All Press Kits
Sunday River Ski Resort Announces $4.7 Million in On-Mountain Improvements for 2017-18 Winter Season
September 19, 2017
Press Release
Sunday River Ski Resort Announces $4.7 Million in On-Mountain Improvements for 2017-18 Winter Season
Notable improvements include a new chairlift and ski trail, upgraded snowmaking equipment, a restaurant expansion, and launch of a new slopeside condominium complex to be built in 2018-19

Newry, Maine (September 19, 2017)--Sunday River Resort announced recently the investment of $4.7 million in guest enhancements for the coming 2017-18 winter season. Improvements include a new chairlift and trail, improved snowmaking equipment, expanded outdoor restaurant seating, and the launch of Dream Maker Lodge, Sunday River's newest real estate development. Since joining the Boyne Resorts family back in 2007, Sunday River has received nearly $45 million in financial support towards projects intended to benefit resort guests.


New: Spruce Peak Triple Chairlift
Sunday River's newest chairlift, the new $2.2-million-dollar Spruce Peak Triple-a three-passenger fixed-grip chairlift engineered by Doppelmayr-will replace the resort's original Spruce Peak Triple and serve as the primary chairlift on Spruce Peak. Spruce Peak is one of Sunday River's eight interconnected mountains, best known for its intermediate and advanced terrain. Spanning 4,184 feet, the new chairlift will extend 1,207 vertical feet from the base of the resort's Spruce Peak to the summit. One hundred and forty-five chairs will carry up to 1,480 guests per hour at a rate of 500 feet per minute. The chairlift's modern technology will shorten guest's ride time by approximately one-third-from 11 minutes to 8 minutes. The last time Sunday River installed a new chairlift was back in 2008 after the resort joined parent company Boyne Resorts. Together they welcomed the addition of the resort's signature Chondola (part chairlift, part gondola) that transports guests year-round to the top of North Peak and the mid-mountain Peak Lodge. Sunday River Resort is the third largest ski resort in New England and is home to 15 chairlifts, including the new Spruce Peak Triple. In total, the resort boasts 870 acres of skiable terrain, including 135 trails across eight interconnected mountain peaks.
---

New: Bear Paw Trail
Sunday River will debut Bear Paw this winter, a beginner-friendly trail located on the resort's Locke Mountain-one of eight interconnected mountain peaks best known for its dedicated race terrain. Built in partnership with Gould Academy-a private high school in the neighboring town of Bethel, Maine-Bear Paw is designed to help keep traffic off the resort's dedicated race trail, Monday Mourning, which Sunday River and Gould Academy use for training, events, and a competitive weekend program. Named "Bear Paw" as a nod to a long-time Sunday River employee and technical delegate Bear Bryant and play on the trail's many switchback turns, this new trail is accessible via the White Cap Quad, Locke Mountain Triple, and Barker Express chairlifts, and boasts the latest in snowmaking automation technology.
---

Snowmaking Upgrades
Sunday River's already unsurpassed snowmaking system is getting another edge thanks to the addition of 17 new technology hydrants and more than 8,000 feet of additional snowmaking pipe. By numbers, Sunday River's snowmaking system currently boasts more than 2,000 snowguns--including the SR-7 head, Boyne Low-E fan guns, and a host of energy-efficient HKD heads mounted on towers--and more than 80 miles of snowmaking pipe, 30 miles of snowmaking hose, and 2,220 hydrant stations. When it comes down to actually producing snowflakes, a typical snowmaking team of 30 men and women split three shift a day to ready on-mountain hydrants and snowguns for upwards of 8,100 gallons of water per minute. Snowmakers manually turn on and off each snowgun allowing an on-site compressor house to push 54,000 cubic feet of air per minute into the water to make snow when temperatures allow. With the new, automated hydrants located on Bear Paw, Sunday River snowmakers will be able to turn on and off each of its snowguns from a computer. This new technology, combined with Sunday River's existing infrastructure and alpine setting in the Western Mountains of Maine, will continue to allow the resort to open early and stay open until May 1.
---

A Room with an Even Better View
Harding Lee Smith, award-winning chef and owner of The Rooms Restaurants in Portland, Maine, in partnership with Sunday River Resort, will welcome the addition of a new 32-by-24-foot deck to the Mountain Room designed to expand seating capacity into outdoor space at the restaurant's mid-mountain location. Chef Smith added The Mountain Room to his portfolio and to Sunday River's food and beverage scene in 2016, with an initial phase that included a 20-person bar, inside seating, and several specialty menus. The Mountain Room is open on weekends and holidays and boasts a full bar serving a selection of signature cocktails, wine, and beer, as well as appetizers and small plates handcrafted by Chef Smith himself. Chef Smith's other restaurants include The Grill Room, The Front Room, The Corner Room, and Boone's Fish House & Oyster Room. The Mountain Room is the only restaurant in Chef Smith's portfolio not located in Portland, Maine. Guests on skis and on foot can access the Peak Lodge at Sunday River using the Chondola chairlift.
---

New: Dream Maker Lodge

Sunday River Resort announced recently the launch of Dream Maker Lodge--a new 29-unit slopeside condominium development available exclusively through Sunday River Real Estate. Located off the resort's Dream Maker trail, the new Dream Maker Lodge will consist of modern one- and two-bedroom units, with shared amenities including a shared hearth room, owner's lockers, outdoor hot tub, and elevator.

The newest resort development at Sunday River Resort, Dream Maker Lodge is also the first slopeside condominium complex in over a decade. Information is available at sundayriverliving.com; occupancy is slated for spring 2019.

For more information, visit sundayriverliving.com or call 800.207.2354.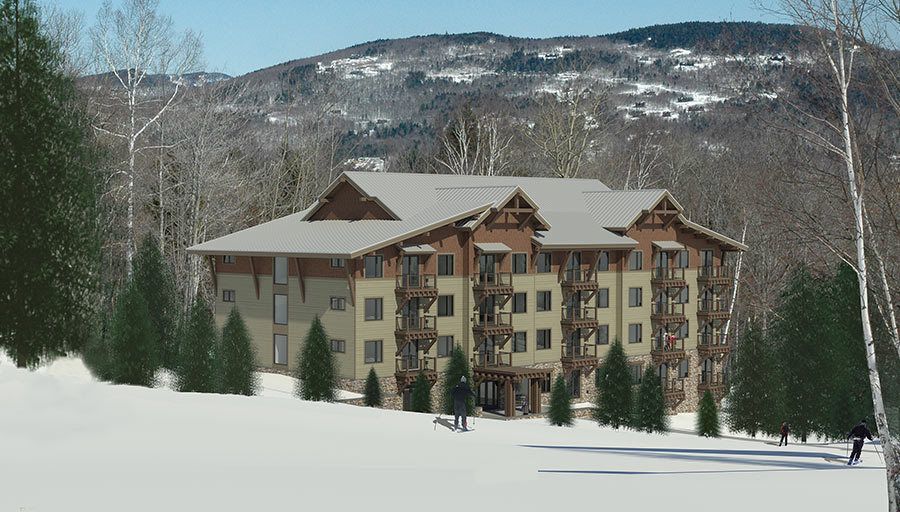 Media inquiring about any of Sunday River's recent investments should contact Darcy Lambert, Director of Communications for Sunday River Resort, at dlambert@sundayriver.com or 207-824-5243.
About Sunday River Resort A four-season destination, Sunday River Resort is home to eight interconnected mountain peaks of world-class skiing and snowboarding and the most slopeside lodging in the East including two Resort Hotels, the Snow Cap Inn, Ski Dorm, and hundreds of condominiums. Sunday River is a member of the Boyne Resorts family of resorts and attractions and is located in Newry, Maine, amidst the scenic Mahoosuc Range.

###