Press Release
« All Press Releases
15th Annual North American Wife Carrying Championship on Saturday, October 11, 2014
Registration opens Monday, August 4, 2014
July 16, 2014
VIDEO of past North American Wife Carrying Championships is available to download here: http://vimeo.com/channels/mediabroll
IMAGES of past North American Wife Carrying Championships is available to download here: http://bit.ly/NAwifecarry
Newry, ME (July 16, 2014)-For a sport with Finnish roots, the North American Wife Carrying Championship happens to be one of Maine's hottest fall events, drawing thousands of spectators to Sunday River Resort, not to mention national and international athletes and worldwide media coverage each year.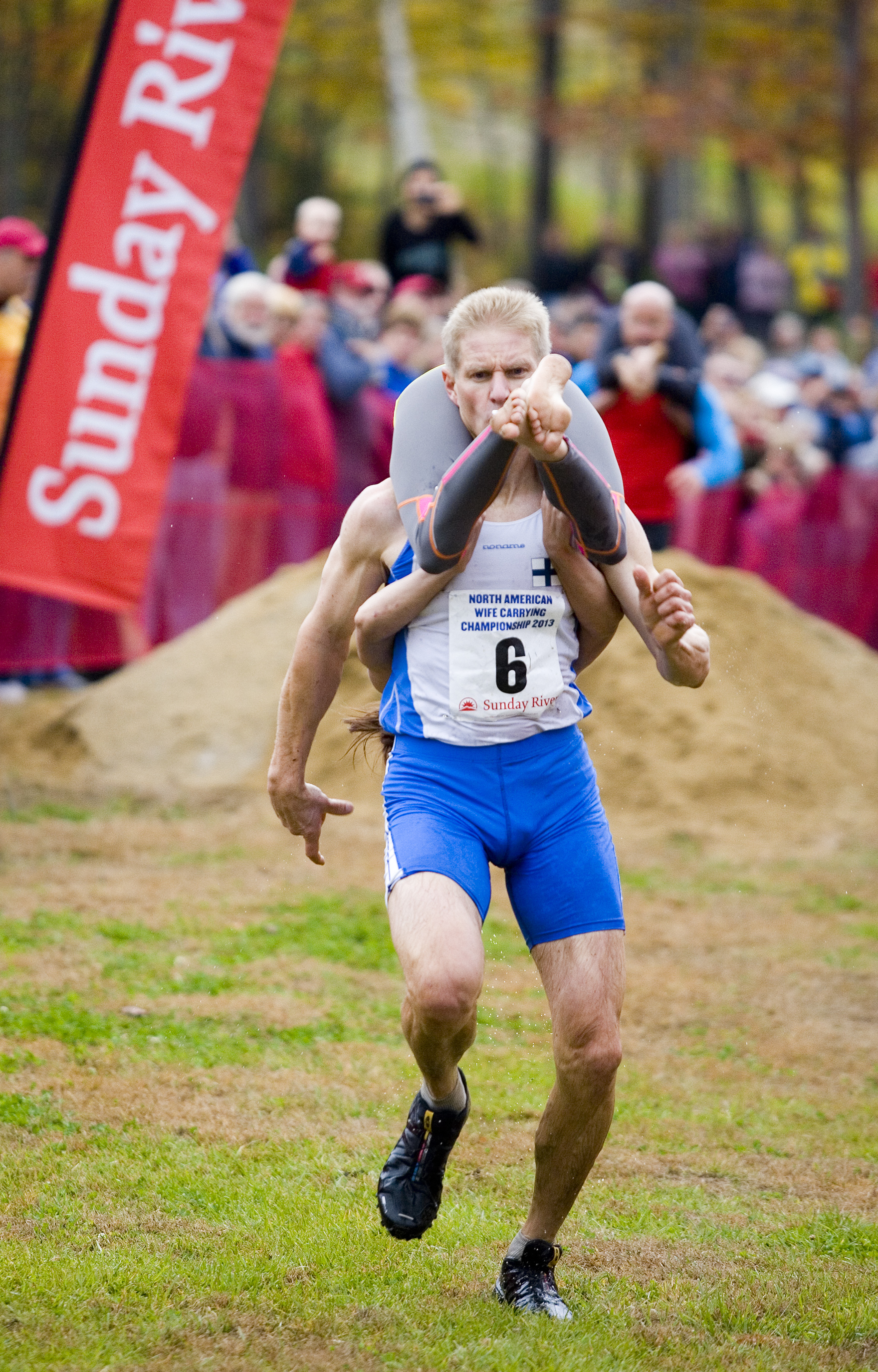 This year's 15th Annual North American Wife Carrying Championship is scheduled to take place on Saturday, October 11, at 11 a.m., during the resort's annual Fall Festival Weekend. While the NAWCC is the most highly anticipated event of Sunday River's Fall Festival, the weekend will also include live music, kids' activities, a craft fair, and plenty of food and beverages with which to celebrate the long weekend.
This year's NAWCC will see 50 pre-registered couples compete for the championship title and exciting prizes, including the wife's weight in beer and five times her weight in cash.
Former world, state, and regional champions have been known to travel to Sunday River and compete in this national championship event. Pre-qualification is given to the winners of world, state, and regional events; public registration for the remaining spots will open Monday, August 4, 2014 on sundayriver.com.
Last year's North American Champions were Taisto Miettinen and Reetta Sairanen, a couple from Finland (the sport of wife-carrying's motherland) who were also the 2013 World Wife Carrying champions. Last year was Miettinen's second year competing in and winning the North American Wife Carrying Championship at Sunday River.
The North American Wife Carrying Championship course length is based on the World Wife Carrying Championship. The difference between the two is the location's respective course. The world event's course is a track and Sunday River's course takes place on a mountainside.
Both events feature obstacles: Sunday River's course obstacles range from log hurdles and sand traps to a man-made pond, also known as the "widow maker."
After all 50 couples compete, the two couples with the fastest times then race against one another for the championship title and prizes.
Based upon Finnish folklore and modern World Wife Carrying Championship rules, couples do not actually have to be married to compete, but do have to be comprised of a man and woman. Both participants must also be of legal drinking age.
For this event, most couples use the traditional Estonian carry, in which the woman's thighs rest upon the man's shoulders in an upside-down piggyback fashion. Some couples, however, use a fireman's carry or an actual piggyback. To date, all former champions, both at the North American and World events, have used the Estonian carry.
The idea of wife-carrying is Sonkajärvi, Finland's very own. Despite its humorous name, the sport has deep roots in Finnish and Estonian history and is based on a brigand named Rosvo-Ronkainen, who only accepted men capable of proving their worth and strength. In those days, a common practice was stealing women from the neighboring villages and running through a rigorous course.
Today, most "wives" actually volunteer their and their husbands' services for the North American Wife Carrying Championship event.
For more information on the event, visit sundayriver.com or wife-carrying.org.
About Sunday River Resort-Sunday River is located minutes from picturesque Bethel Village in Western Maine's Mahoosuc Mountains. A true four-season destination, the resort offers eight interconnected peaks of world class skiing and snowboarding, the most slopeside lodging in the east including two resort hotels, and in the summer months activities including lift-serviced mountain biking, ziplines, and golf at the acclaimed Sunday River Golf Club. Sunday River is a member of the Boyne Resorts family of resorts and attractions.
###